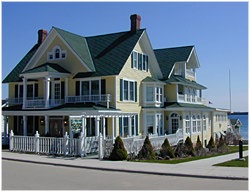 Built over a century ago in 1891, Bay View on Mackinac Island still celebrates her original family heritage in the Grand Victorian style that is truly Mackinac. Beautifully positioned on the bay, Bay View is the only B&B / Inn of her type and style resting on the water's edge. Each guest room will embrace you with its own unique seascape, while our second story sundeck boasts an incredible view of the straits of Mackinac.
At Bay View, you will enjoy our hot, gourmet seated, breakfast on the veranda, the best homemade cookies served every afternoon, and a generous tast-tempting dessert each evening. And of course… "bottomless cups of our famous Bay View Blend Coffee"… all with our compliments.
Bay View Bed & Breakfast creates the perfect setting for all your Mackinac Island memories; strolling the boardwalk, savoring our famous Mackinac Island fudge, shopping downtown, bicycling, golfing, swimming, horse-back riding, taking a carriage tour all over the island, or simply gazing at the Straits of Mackinac.
Bay View Bed & Breakfast
6947 Main Street
Mackinac Island, Michigan 49757
(906) 847-3295
<>
Bay View Bed & Breakfast Website >>>
<>