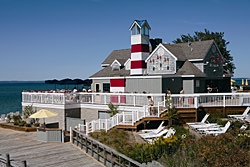 Lake Michigan's spectacular vistas make this a resort unlike others. The color of the water–sometimes blue, sometimes turquoise, sometimes golden–is one reason why. Another is relaxing along the water. You and each member of your family or group can do as much or as little as you like.
That's why this resort is celebrated, both near and far, as The Homestead, America's Freshwater Resort.
Lake Michigan Resort
Though expansive, the resort is quite simple to picture.
It was designed, built and is managed to help you enjoy the Most Beautiful Place in America.
On its west are miles of sandy beaches on which you can walk for hours. The beaches are soothing by day, spectacular at sunset, remarkably romantic on starry nights. To its east is Sleeping Bear Dunes National Lakeshore, the area chosen by the viewers of ABC's Good Morning America as "The Most Beautiful Place in America."
Within the resort, neighborhoods separated by nature provide a wide range of high-quality accommodations. Some are perfect for couples, some for families, and some for groups. All are beautiful. There are shops, restaurants, and recreational facilities. There are places for weddings, , and meetings. All of them are staffed by caring and attentive professionals.
You could be pampered at the spa or salon, sit by a pool, play a round of golf or hike in the National Lakeshore. Or, you could teach your kids to swim, play tennis or golf, ski or snowboard.
Simply said, you decide how you want to spend your time in the Most Beautiful Place in America. We take care of the rest.
The Homestead
1 Wood Ridge Road
Glen Arbor, MI 49636
231-334-5100
<>
Visit The Homestead Website >>>
<>